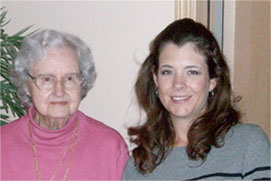 "The staff are caring and loving people. They make life comfortable, safe, and well cared for." — Pat F.
Senior Living Tulsa
When you or your loved one is looking for safe, elegant, convenient senior living in Tulsa that provides a comfortable residential feel, look no further than The Parke — a unique, locally built and owned senior living space that specializes in making residents feel at home.
Secure, Caring Living Arrangements
For many seniors, living alone can be lonely and stressful. Often, they find themselves living in a home that is much bigger than their current needs and challenging to maintain without over-exerting or injuring themselves. They may worry about sorting their medicines properly or being home alone if they fall. They need some assistance with day-to-day activities, but they don't need the constant, specialized care of a nursing home.
Assisted living facilities are a great solution — providing help to senior residents as needed, while also allowing them to enjoy as much independence as possible. Other residents and well-trained caregivers are always present, so seniors never need to feel lost or alone when facing a challenge. And because we're here to care for the living space, seniors don't have to take on risky activities that are necessary for independent home care, such as clearing gutters, shoveling snow, or lifting heavy objects.
Elegant, Supportive Environment
Unlike big, corporate-run residences built in a cookie-cutter style, or sterile nursing homes that lack personality and warmth, The Parke is a warm, inviting, locally owned residence constructed by local builders who understand what makes Tulsa a beautiful place to live.
Our residents enjoy an elegant, well-kept, comfortable living space with appealing features, such as:
Spacious, 650-square foot, one-bedroom apartments instead of small studios
Individual heating and cooling for each unit, so every resident can set temperatures to their liking
Free Wi-Fi to enable easy computer use and encourage residents to stay connected with family and friends
And much more! (See our Amenities & Services for details.)
Convenient Location
Situated just south of 71st Street and Memorial Avenue, The Parke is conveniently located centrally near the highway, making it easy to access for visitors traveling from Broken Arrow, Owasso, Bixby, Sand Springs and other parts of Green Country, or even out of state. And because The Parke is near Woodland Hills Mall and many other convenient restaurants and shopping areas, family members can take our residents out for fun family time without having to drive far.
The Parke also makes it simple for residents to enjoy important and valuable lifestyle services without having to leave the property. We offer access to an on-site postal kiosk, beauty and barber salon, laundry room, chapel, activities room, entertainment room, library, arts and crafts room, family room with fireplace, gardens and courtyards, plus an adjoining city park and walking trails.
See for Yourself Our Elegant Senior Living in Tulsa
Contact us today to schedule a tour and a complimentary meal, so you can see for yourself the elegant, beautiful, nurturing environment at The Parke. For more details, call us at 918.249.1262.