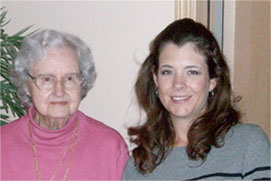 "The staff are caring and loving people. They make life comfortable, safe, and well cared for." — Pat F.
Retirement Community Tulsa
You or your loved one deserves a living environment that offers excellent care, robust amenities, and a beautiful atmosphere in which to make a home. At The Parke, residents dwell in an elegant, well-designed, premier retirement community in Tulsa, second to none.
Elegant Atmosphere
Even though it may be time to transition from fully independent living to assisted living, seniors don't have to sacrifice a rich, pleasing environment. The Parke is neither a large, corporate facility that lacks personality or a nursing home for those who are too ill to care for themselves. We are a superbly designed and decorated retirement community that invites residents to feel comfortably at home.
Residents at The Parke enjoy living in a quiet, peaceful neighborhood next to a lovely city park, with walking trails that invite interaction with the beauty of nature. Special touches from a delightfully decorated dining area to attractive personal apartments make living here a pleasant, enjoyable experience.
Thoughtful Design
You deserve a living space designed with your needs, preferences, and desires in mind. Unlike the sterile, uninspired design you find at many other residences, our senior retirement community is arranged to meet our residents' needs in a way that feels warm, inviting, and homey.
Every inch of the community is on the ground floor, with wide and easily navigated hallways, ensuring that everything is easily accessed without worries or discomfort. Apartments are all handicap accessible and include full kitchens with appliances, individual heating and air conditioning, carpet, window coverings, smoke detectors, and wiring for telephone and cable TV.
Premier Services
At The Parke, we believe seniors can enjoy both a peaceful, delightful, elegant environment as well as respectful, top-notch assistance. Residents can rely on our excellent amenities and services, all designed to offer the best of care, including:
Caring, 24-hour staff presence
Weekly cleaning and bed linen care, as well as regular trash removal
Superior grounds and building maintenance
Conveniently scheduled transportation
Daily newspaper and mail delivery
A wide variety of activities and entertainment
Wellness clinics and exercise programs
Coordinated health care and emergency first aid services
Take a Tour to See Elegant, Excellent Retirement Living in Tulsa
The best way to learn about The Parke is to see for yourself our unique qualities and environment. Contact us today to schedule a tour and a complimentary meal. For more details, call us at 918.249.1262.