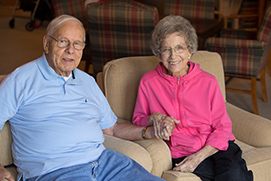 "The care and understanding we receive here is hard to express, but we are very happy to live here and enjoy every day." — Chuck & Ginny B.
What is Assisted Living?
Is assisted living right for you or your loved one? We'd be happy to talk to you about it and answer any questions you have. In the meantime, here's some more information that might help.
---
Assisted living facilities are for people needing assistance with Activities of Daily Living (ADLs) but wishing to live as independently as possible for as long as possible. Assisted living exists to bridge the gap between independent living and nursing homes. Residents in assisted living centers are not able to live by themselves but do not require constant care either. Assisted living facilities offer help with ADLs such as eating, bathing, dressing, laundry, housekeeping, and assistance with medications. Many facilities also have centers for medical care; however, the care offered may not be as intensive or available to residents as the care offered at a nursing home. Assisted living is not an alternative to a nursing home, but an intermediate level of long-term care appropriate for many seniors. Most assisted living facilities create a service plan for each individual resident upon admission. The service plan details the personalized services required by the resident and guaranteed by the facility. The plan is updated regularly to assure that the resident receives the appropriate care as his or her condition changes.
Assisted living is the generic term used across the country, but the term for the facilities can differ across the country. Common terms for these facilities include:
Residential care
Personal care
Adult congregate living care
Board and care
Domiciliary care
Adult living facilities
Supported care
Enhanced care
Community based retirement facilities
Adult foster care
Adult homes
Sheltered housing
Retirement residences
How Does an Assisted Living Facility Differ from a Nursing Home
Nursing homes are designed to care for very frail people that are not able to care for themselves and have numerous health care requirements. Assisted living facilities are designed to assist elderly persons who are able to care for themselves except for a few activities. Assisted living facilities are often deemed necessary when the person in question needs help preparing meals, bathing, dressing, performing household chores, is sometimes confused, or is experiencing memory problems.
What are Continuing Care Retirement Communities?
Assisted living facilities are often connected with independent living residences and nursing homes. The combination is known as a continuing care retirement community. The resident can take advantage of the full range of services available and the ease of transfer to a different type of facility as his or her condition and needs change without needing to look for a new facility, relocate, or adapt to a new setting. For example, the resident may begin in the independent living residences, move to assisted living as he or she needs help with activities of daily living, and eventually move to the nursing home as ongoing care becomes necessary.
The three different contracts available to people wishing to become a member of a continuing care community are extensive, modified, and fee-for-service. All three cover shelter, amenities, residential services, and any short-term and emergency care. The contracts differ in the amounts of entrance fees and monthly fees.
In addition to the costs mentioned above, an extensive contract also covers unlimited long-term nursing care with no corresponding increase in monthly payments. This is the most expensive contract but may prove to be the most cost-effective in the long run. The modified contract covers a specific amount of long-term nursing care in the monthly payments. Once the specified amount is used, the resident must pay for any additional nursing care. Residents under the fee-for-service contract must pay for long-term care at daily nursing care rates. This is the least expensive plan because all future long-term nursing costs must be paid for separately from the contract.
What is Independent Living?
Independent living is for people who want to and are able to live independently but do not want to maintain a home. Many people prefer to live in a community with others of the same age and with similar interests. An independent retirement community allows for a great deal of social activities and trips. Many independent living facilities also offer prepared meals and provide a wide range of amenities.